Grid-tied Power Systems
Grid-intertied power systems are for folks who are (or will be) connected to utility company power lines (the "Grid"). They plan to use the Grid to supplement what they are able to make with renewable energy sources like the sun or wind. They are also called gridtie, grid-tie, gridtied, grid-tied, grid intertied, grid-intertied systems! They can be powered by solar panels or wind generators.
Grid-intertied Solar Power Without Batteries
This is what the Federal incentives and State rebates are encouraging you to buy. It provides you with electricity which is less expensive in the long run. It also increases the amount of energy available through the Grid because electricity in excess of what you use is routed into the Grid. But when the Grid goes down, your house is also without electricity. Look at sample Solar Grid-tie Systems.
Most of our customers need help sizing and designing their systems and we are happy to do this. We also have an easy online calculator for estimating system size for Grid-Tied systems.
Grid-intertied Wind Power Systems
These system produce power with wind generators. They can be set up with or without emergency back-up power.
Grid Tie Solar Power Systems Information:
Frequently Asked Questions – Just starting? Read a few answers to the most asked questions about solar
Solar System Sizing Worksheet – Based on your existing use of electricity, figure out how many panels your grid-intertied system will need to produce.
Load Evaluation Worksheet – If you are building an off-grid home, this will help you estimate how much electricity you will need.
Power Consumption Table – Want to know how much power something uses? Many common items are covered here.
Branch Circuit Wiring – If you are planning to connect a solar system to an existing home you MUST read this first.
Guide to Photovoltaic (PV) System Design and Installation – California Energy Commission
Back-up Power Systems – See what you can do to be sure that your lights will stay on.
What kind of grounding and lightning protection do I need?

System Grounding – It's the most asked question we get. Read all about it.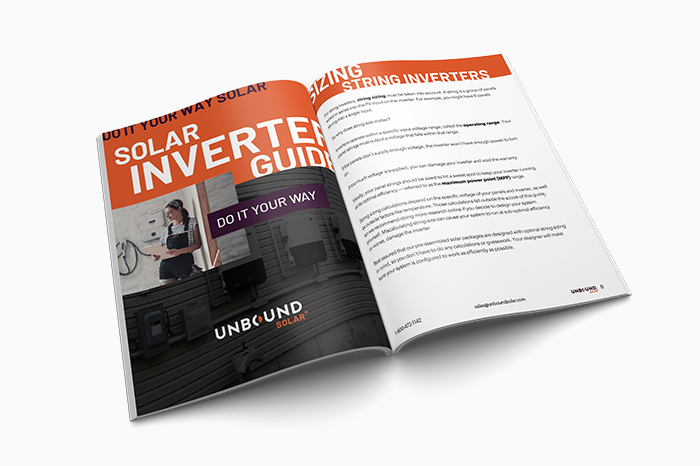 Download Your FREE Solar Inverter Guide
Manage Power Flow Like a Solar Pro! Download Now for Hassle-Free Hookup.