Solar Permitting, Services & Inspections 2021 Guide
DIY Solar Permit Information
Before you go solar, you'll need to file for a permit approving your project. Solar permits typically require approval on two forms—one from your local building authority (to approve new construction), the other from your electric company (to approve interconnection to the grid).
Permitting is often the most time-consuming step in the solar process. It takes time to submit detailed documentation on your system, like wiring schematics and spec sheets for each component. It can also take days (or weeks) to move through the approval process.
To make things easier, we put together a quick overview of the permitting process. Here's what to expect when you file your solar permit.
Step 1: System Design & Line-Item Quote
When you contact us, you'll be paired with an experienced solar design technician to help plan and guide your project. Your design tech will ask questions about your energy usage, local climate, and goals for going solar. Based on your responses, we'll work together to design a system that suits your needs.
Once we have a target system size in mind, your design tech will provide a line-item quote (and any requested revisions) for your system. Once you're satisfied with the design and ready to move forward, we'll provide you with the necessary documentation to put your permit package together.
Step 2: Fill Out Interconnection Permit
First, you need to apply for an interconnection agreement, which gives you the approval to connect to the utility grid.
The utility company wants to ensure your system is safe and code compliant. To make that judgment, they'll need to see component spec sheets and a wiring diagram to ensure everything is properly designed. 
We design our complete solar kits to comply with the most recent National Electric Code to make this step as painless as possible. We can also modify designs to satisfy local code requirements.
Interconnection agreements commonly ask for the following information:
Location of utility meter, electrical panel(s), proposed PV array and other landmarks.

The number of solar panels and inverters, including manufacturer and model being installed.

The capacity rating for your planned power inverter and PV panels.
Start by searching for an interconnection application on your utility company's website, or call them up and request one if you can't find it online.
Step 3: Building Permit
You'll also need to file for a building permit with your local AHJ that oversees new construction—typically, your city planning office.
If you're building a roof-mount system, the AHJ will want to confirm your roof is engineered to handle the extra weight of the solar array. Most recently built homes are fine, but older homes may have rooftops that are damaged and/or not engineered to support extra weight. In these cases, you could either replace/repair your roof or explore the possibility of ground-mount solar instead.
If you're unsure, it's a good idea to have your roof inspected by an engineer before filing for a building permit. Processing applications can take some time, and a rejected permit can delay your project for days or even weeks.
To find a copy of this application, search Google for "solar permit application [your location]" and download the form from your city planner's website. If you can't find it, call them up and tell them you want to permit a new solar system, and they'll send an application your way.
Step 4: Fill out & submit both forms
Once you have tracked down both forms, it's time to fill them out and submit them. Gather the following info to have on hand during this process:
Product spec sheets

Site map / plot plan

Solar panel wiring diagrams

(provided with purchase)

Fire safety ratings

Engineering certifications for panels and mounting hardware

PV labels and placard placement map
This process is fairly time-consuming, often resulting in applications around 10-15 pages long. If you prefer to have someone else handle it for you, third-party services like Gemini Solar Design or Solar Permit Services can complete your permit for a flat fee.
Step 5: Approval
Your AHJ and utility company will review your application. If your permit is declined, they will communicate any issues with you so that you can make revisions and re-submit for approval.
Depending on how busy your local offices are, applications can take days or even weeks to process. We recommend triple-checking your application before you submit it to avoid lengthy delays.
Once you have approval from both offices, your permit is ready! Your AHJ will either mail you the permit or request that you pick it up in their office.
Once the permit is approved, we can move ahead with fulfilling your order. We will process your payment and freight your equipment to your address. With permit in hand, you are free to start installing your system as soon as it arrives.
Once you've finished installing your system, there's one final step before you can flip the switch on.
Step 6: Inspection
Once your system is built, the permitting offices will need to do a final walkthrough to make sure it has been installed correctly, wired according to code, and safe to use.
Contact your local AHJ and utility company for a final inspection. A building inspector will visit your site to sign off on your work. Once it passes inspection, a representative from the utility company will grant a stamp of approval to start using your system. 
At this point, you are free to commission your system and start generating solar power! 
Solar Permitting FAQs
Here are some other common questions that come up during the permitting process:
How long does permitting take?
Solar permitting can take anywhere from a few days to a few weeks. Again, it really depends on how busy your local permitting offices are. We strongly recommend taking your time on the application to avoid long delays in revising and resubmitting your permit.
How much are permitting fees?
Permitting fees are typically a few hundred dollars. Like almost everything in this process, it depends on your local jurisdiction.
Do I need to fill out my own permit if I DIY?
No, you do not need to fill out your own permit if you DIY. If the permit application is too confusing, or simply too time-consuming, there are third-party services that will file for a permit on your behalf for a flat fee (on top of the application fees with your AHJ and utility). We're familiar with Gemini Solar Design and Solar Permit Services, but there are other providers out there as well.
Do I need a permit for off-grid solar?
Yes, you do need a permit for off-grid solar. While you don't need to submit an interconnection agreement (because you are not connecting to the grid), the building permit is still required.
Though your system won't be connected to any public services, the AHJ is still concerned about issues like fire safety and sound structural engineering. It will still need to pass inspection before it can be commissioned.
For more guidance on off-grid systems, grab a copy of our free off-grid permitting guide.
Or check out our solar permit plan set service.
When can I start the permit application process?
Solar permitting is time-consuming; we recommend starting as early as possible. After an initial consultation with a designer, you will receive a line-item quote, which can be revised at your request. 
Once we arrive at a design you're happy with, we will send you a finalized quote, spec sheets for your system components, and a line diagram produced by our in-house tech team. With these documents in hand, you are free to start the permit application. 
Be sure you are happy with the final design before submitting a permit. Any design changes will require you to submit a new permit to ensure the modified parts list is still compatible.
Permitting Resources
Ready To Go Solar?
When you're ready to move forward with your solar project, reach out to our team for a free design consultation. We'll ask you questions about your goals for going solar and design a custom system to suit your needs. With more than 10,000 systems under our belt, and a 4.8/5 star rating on Google, you can rest assured that your solar project is in good hands.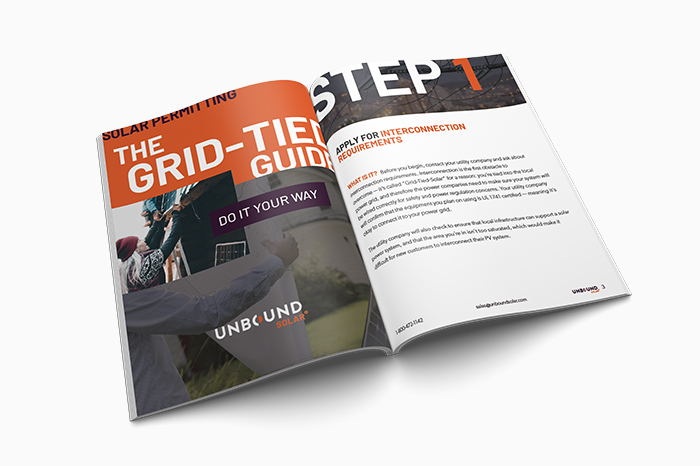 Download Your FREE Solar Permitting Guide
Permitting is the most time-consuming part of your solar project. Fast-track your approval process with our Solar Permitting Guide.