Ground Mounts vs. Roof Mounts: Quick Summary
Roof mounts are less expensive because they use your existing roof structure as a foundation. They also take up less room on your property. Ground mounts take up more space, but they're easier to access for installation and repair. They also give you greater control over the orientation of your array to maximize production.
Once you have your solar panels picked out, it's time to decide which mounting system is best for your living space, budget, and energy needs.
There are two types of solar mounting options: roof mount and ground mount racking systems. Roof mount systems affix to brackets on your roof, while ground mount systems are built into a foundation at ground level. See the comparison images below for examples.
Ground Mount
Roof Mount
There are benefits and drawbacks to each, and both mounting systems have their merits depending on your project specs. Explore our picks for the best solar panel mounts.
This article will dive deeper into what we think about when we recommend ground mount vs. roof mount racking to our customers.
But first, a quick summary:
Ground Mounted Solar Panels
Pros
Easy to access
Easy to clean
Easier to troubleshoot
Stronger racking overall
System is not confined to the dimensions of the roof
Cooler panel temperatures mean higher energy output
No need to remove panels if roof is replaced
Cons
Installation is more labor-intensive
Installation is more expensive
Requires more parts and pieces
Permitting process is more expensive
Takes up real estate
Not aesthetically pleasing to everyone
Roof Mounted Solar Panels
Pros
Less expensive
Requires fewer materials to install
Installation labor cost is lower
Utilizes unused space
Easier to permit
Cons
Hard to access – especially if your roof is steep or slippery
Harder to troubleshoot errors
Higher panel temperatures mean lower panel output
Space constraints on the roof limits the size of the system
Can be a hassle if you need to replace the roof within the panel's lifetime (might install the system twice)
Putting holes in your roof could lead to water damage
Why Go Ground Mount?
The Perfect Alignment
No matter what kind of solar system you're considering, this much is true: every solar array works best when it's able to get as much sunlight as possible.
If you live in the United States, you're north of the equator, so the sun leans south as the Earth orbits. Facing your array true south will capture the most daylight and produce the best results. However, if you live south of the equator in South America, it would be more efficient to face your system true north.
Getting the perfect alignment can be a little tricky for a roof-mounted system. It isn't likely that your roof naturally faces directly into the sun.
Ground-mount systems can face any direction you want. You can align your system at the optimal angle so it points directly at the sun. For that reason alone, ground-mounted systems are most efficient, as they maximize access to the sunlight that powers the array.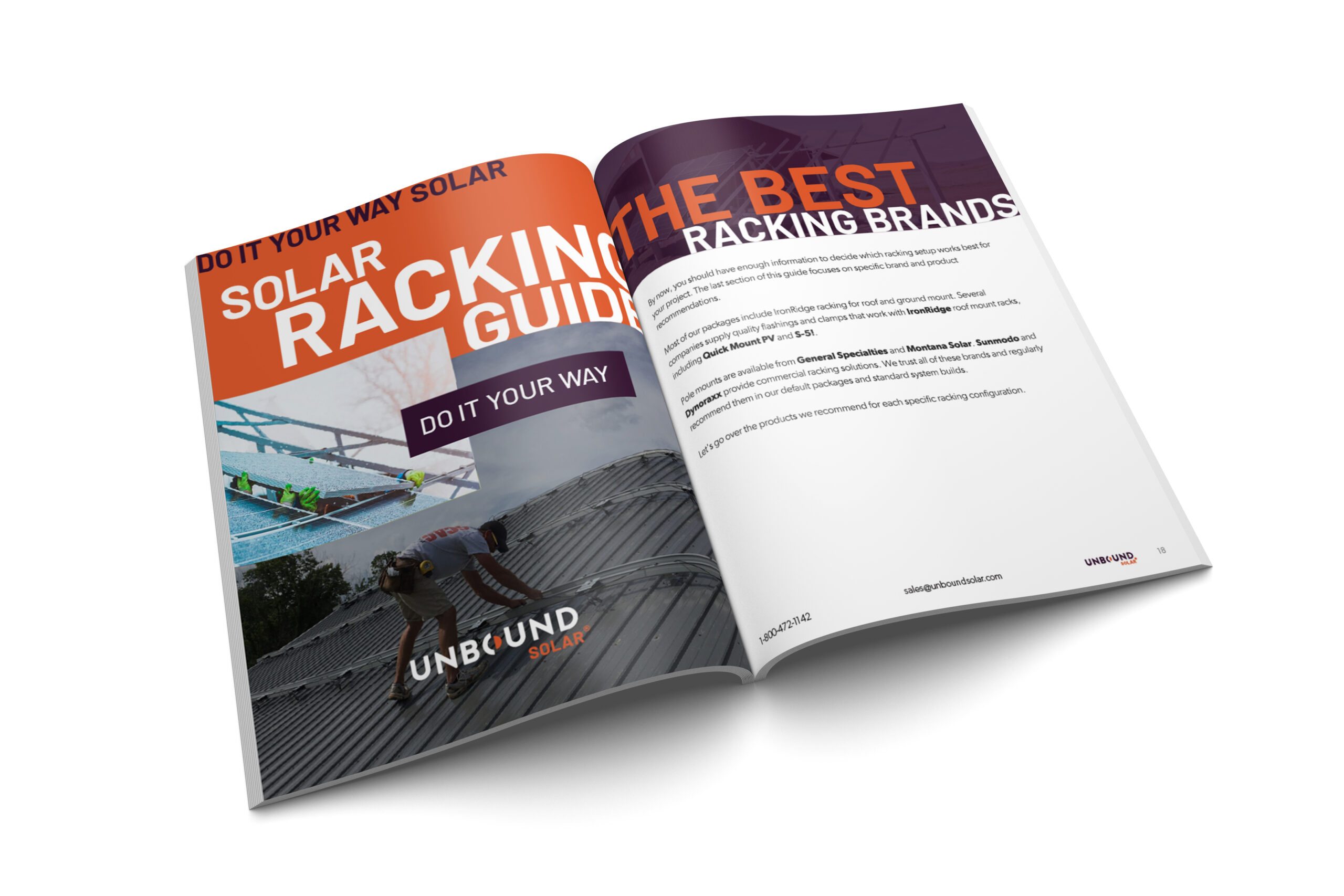 FREE Solar Racking Guide
Benefits for Off-Grid & Grid-Tied Consumers
The perfect angle isn't the only thing that makes ground-mount arrays more efficient. Being raised off the ground allows for better airflow and cooling, which means your panels produce more energy.
Most solar panels are tested at an average of 77° Fahrenheit – a normal sunny day, but nothing too extreme. But when it gets hotter than this, and the panels grow less efficient, producing 10-25% less electricity. The semiconductors suffer greater resistance to the flow of electricity. Think of it like squeezing the hose when there's water running through it.
Proper airflow and cooling keep your panels running in optimal conditions, which is a clear advantage for ground-mount racking.
Giving You Room to Grow
If you're installing on your roof, chances are you've got limited space to make the most efficient array possible. Should your energy needs change in the future, it could be challenging to add more panels to your current system.
When you go ground-mount, you're under no such restriction – assuming you have the space in your yard. You can expand your array after the initial installation, and many ground mount racking options allow you to bolt on new additions easily.
This means if you add on to your property and require more power, or if you find that your initial power supply just isn't cutting it, you can add more panels as needed with minimum fuss.
Accessibility
Another major benefit to ground mounted solar is accessibility. Solar systems require a lot of trial and error, especially in the installation phase. It's a pain to have to get up on the roof every time you need to work out a kink with your system.
This is an even bigger selling point if you're considering a system with microinverters and optimizers. With those accessories, there is a component under each solar panel and they can be difficult to replace on a roof-mounted system.
What happens if a microinverter in the middle of the array breaks down? In that case, you would have to remove several panels to access the source of the problem. When your system is on ground level instead of high up on the roof, it's easier to troubleshoot panels and accessories.
Ground mount also makes it easier to clean your panels and perform routine maintenance on them. It provides you with more peace of mind to know you won't have to risk your safety every time you need to brush snow off the panels, wash off dust and pollen, or remove debris from under the panels. There are also pole mounts available, which are ideal for heavy snow areas. Pole mounts can be constructed with adjustable tilt angles to maximize energy production and easily shed snow in the winter months.
Drawbacks Of Ground-Mounted Solar
Now for the drawbacks of ground-mount racking that you might want to consider.
In general, a ground mount is a lot more complicated to install and requires more money upfront to get the job done. If your primary concern is seeing the maximum return on your investment into solar panels, roof mount could be the way to go. The permitting process will be lengthier for a ground-mount system. And it will take up more space on your property, which you may prefer to use for something else.
More Labor Intensive & Requires More Cost Upfront
The main reason why a ground mount requires more cost upfront is because the system requires more parts to be assembled.
Think of it this way – when you place a solar array on the roof, half of the structure has already been built for you. But when you place a solar array on the ground, you have to build a sturdy roof-like structure to hold the panels in place.
This process involves getting your soil surveyed to make sure it can hold the system firmly in place, digging large holes, and paying extra for parts to build a suitable foundation for the panels.
Roof-mounted systems skip a lot of these costs. Assuming your roof is in good shape and doesn't have structural damage, it should be strong enough to support the weight of the solar array. You don't run into any of the hassle of building a brand new foundation to hold the panels in place.
Ground-Mount Racking Requires a Longer Permitting Process
Additionally, the city or county you live in might have a heavier hand in the installation process, since the system is considered a new structure. Depending on where you live, you will have to go to the authority having jurisdiction (AHJ) and obtain a building permit.
This will add extra challenges to the process. You'll need to:
Submit a design plan
Consider soil type and property line setback requirements
Pay permitting fees
Ground-Mount Takes Up Real Estate
The final drawback to ground mounted solar is that it takes up a lot of space on your property. When you mount a system on your roof, it will be more discrete, and you get to keep the space on your land to do whatever you please.
The space issue isn't a big deal if you have a large property. People who live out in the country tend to be able to find space for a ground-mounted system that won't interfere with how they live the rest of their lives.
But if you own a smaller property, your roof may be the only place your solar array will fit. In some cases, a ground-mounted system isn't even an option.
If space isn't an issue, the decision often comes down to aesthetics. For those that consider ground mounted solar an unsightly blemish on their land, there are some artistic or unique installation options out there, such as those featured below.
But for the most part, people are proud of their solar arrays because they are a cutting-edge technology that represents freedom from the power company and total independence.
We like it when people show off their systems with a sense of pride. But there's nothing wrong with preferring one look over another. For buyers who have the luxury of space, the decision often comes down to whether they think ground or roof-mounted systems look better.
Key Points To Consider:
Go with a ground-mount system if you want to simplify the maintenance / cleaning process and maximize energy output over time. There are three main questions to ask yourself to make sure ground-mount will work for you:
How much are you looking to spend upfront?
A ground-mount racking system requires more labor and parts to install it. You may need to partner with a contractor to get the job done, and the permitting process will be lengthier and more expensive.
But consider this: once the panels are installed, the upfront cost will be offset down the line by a more efficient energy output. There's also less cost and hassle involved if you have to remove the panels for re-roofing.
You'll shell out a bit more cash at the start, but the effort will pay for itself over time.
What kind of soil do you have?
If your property is on bedrock or if you know the soil is going to be really difficult to dig into, you might want to put the panels on your roof. Hard soil can make installation costs for ground-mount systems skyrocket. It's not impossible, but you'll need to rent heavy-duty equipment to drill into the ground.
There are also a few workarounds with ground-mount options to keep the digging to a minimum. A ballasted system might be a good solution. Learn more about the different racking options available in our article covering frequently asked questions about ground-mount racking systems.
Will you need to expand your system?
If you don't plan on living off-grid, a rooftop system will probably be more than enough for your energy needs. However, if you are planning to go off-grid, the ground mount will allow you to add more panels as your energy needs change over time and you will get the benefit of a built-in tilt that can face towards the sun more easily than your roof.
When is Roof-Mount Racking Better?
Neither mounting system is "better" than the other – the choice depends on how your budget, energy needs, and lifestyle come together. A roof-mounted solar system tends to be a better option for customers who:
want to maximize their ROI
want a system that is simpler to install
don't have a lot of space
want to spend less money upfront
Less Materials & Labor Means Less Cost Upfront
One thing that makes a roof-mounted solar system an easy sell is that it requires less time and money upfront to install.
When you put a solar system on your roof, the most complicated part of the structure is already in place. You don't have to dig holes, get the soil surveyed, worry about your property line, or purchase expensive materials like poles and concrete.
The set-up is ideal for grid-tie customers that want to make a smart investment; installing on the roof instead of the ground can save you thousands of dollars.
If you're curious to see what the roof mount installation process involves, take a look at our demo roof install in this 22-minute video:
Makes Use Of Unused Space
More often than not, a roof mount is used in a residential setting where there isn't a lot of space for a ground-mount system. You might live in a condo or tightly-packed suburb. What scarce yard space you have might be better used for barbecues or a place for the kids to play. Mounting panels on the roof allows you to use space that would otherwise be useless, saving the rest of your property for the things that matter most.
Even for people with lots of land, some choose to install solar panels on the roof because it's more inconspicuous. It keeps the space on your property free for things like raising animals, farming, and outbuildings. Roof-mounted systems keep the clutter off your land, so there's more room to get things done.
Added Insulation & Protection
One unexpected benefit to a roof-mounted system worth mentioning is that it protects the roof from degrading elements like UV light, wind, rain, and snow. It will also keep your structure more insulated. If you're living off-grid, this can be a nice way to keep the house naturally warmer at night and cooler in the daytime.
According to this article from Earth Sky, students at UC San Diego found that solar panels kept the roof an average of 5° Fahrenheit cooler than an exposed rooftop, which saved the building an average of 5% on cooling costs. Those savings are on top of what you'll save on your energy bill anyway by going solar.
Easier To Permit
Are you one of those people who doesn't like to get tangled up in bureaucratic procedures? A roof-mounted racking system is perfect for you. It involves a much simpler permitting process. You can submit the blueprints for your home to show whether or not your roof is structurally sound, and you'll have to make sure your wiring and electrical systems are up to code. This typically won't be an issue unless you live in an old home.
There's no extra design paperwork to submit, because you aren't building a new structure on your property – something that would lead to a much longer approval process.
Drawbacks Of Roof-Mounted Solar
What makes people shy away from roof-mounted systems? There are a couple downsides to consider:
Inaccessible due to their height
Less efficient, depending on the positioning of your home
Harder to modify and troubleshoot
Space constraints on smaller rooftops
Accessibility Makes Things Harder To Troubleshoot
For anyone that's ever installed Christmas lights or cleaned out the gutters on their home, you know what a pain it is to get up on the roof. Depending on your mobility and planned level of involvement in the installation process, you may want to consider the accessibility of your roof. Depending on the pitch and what kind of material your roof is made out of, you may not want to risk getting up there. For example, metal roofing is really slippery.
Less Efficient
Roof-mounted systems are rarely as efficient as ground-mount systems. Rooftop solar panels can't always be aimed directly at the sun. It's a lot harder to angle an array on an existing structure so that it is optimized for full power consumption during peak hours.
You're at the mercy of the built-in specs of your roof, which means you can't always get the panels facing true south (above the equator) or north (below the equator). To compensate, you may have to buy a few extra panels to match the output of a perfectly aligned ground-mount system.
Space Constraints
The average roof area on a standard, medium-pitch roof in America is 1,500 square feet. Some of this space will be unusable due to chimneys, vents, and other obstructions. There's not a lot of space left to work with.
Once your system is in place, it will likely be impossible to add on to that system if you need to increase your energy production. If your family grows or you add an extension to your home, it could be challenging to add extra panels to adapt to increased energy consumption.
Key Points To Consider
If you think rooftop solar is the best option for you, be sure to consider some commonly overlooked questions:
How old is your roof?
A roof and a solar system have a similar lifespan, so it makes sense to install them at the same time. Roofs less than 5 years old will likely be fit for solar panels. Any older than that and you at least want to consider whether it's a good idea to replace it at the same time you install the panels.
If your roof is really old, there may be damage, leaks or structural integrity issues to worry about. It will need to be in good shape to support the weight of the solar array. Try to anticipate roof repairs before installing your system. It'll be a huge pain in the butt to repair your roof after the panels are installed.
Does your HOA have constraints on where you can mount your panels?
Depending on the solar access laws in your state, a homeowners association (HOA) can prevent you from installing solar panels. Before you purchase your solar system, check in with your HOA to see if they have any guidelines regarding solar. You can negotiate any problems with them while you get the permitting in order.
How expensive is your electricity?
Even though solar panels are an excellent investment, it requires a big financial commitment upfront and it can take time to get a return on that investment depending on your energy consumption. If your energy consumption is small, your savings will be too. A lot of those savings can depend on your state and whether or not you live in a remote area that has expensive electricity. So even though we are big supporters of solar, it's not for everyone – it really depends on your core goals.