Helpful tips on receiving freight from your friends at Unbound Solar and XPO Logistics (formerly Con-Way).
Step 1: Be Prepared
Before your Freight Arrives, make sure you:
Have your Unbound Solar INVOICE available.
Are HOME to receive your freight. If you cannot be there, make sure someone else is there who has seen this video training.
Also, round up your camera and make sure it's all charged up just in case you need it for Step 3.
Step 2: Plan Ahead
Determine WHERE you will unload your freight.
Verify that a truck can ACCESS that location easily.
Make sure there's adequate dry space available for your driver to use liftgate.
Please Note: The trucking company is only required to get your freight shipment to the ground. It is your responsibility for moving it to your garage or other secure place—so round up Big Uncle Buck, the high school wrestling team, or that neighbor with the forklift if you need help moving your delivery.
Step 3: Examine Your Freight
Have a CAMERA ready to document damages.
Verify the NUMBER of pieces you receive by comparing to your Delivery Receipt.
Check all ANGLES of your freight!
Make sure you note all damages and missing items on the delivery receipt before signing.
Because We Care: We know you're busy, so Unbound Solar and XPO Logistics (formerly Conway Freight) allow you 24 hours (1 full day) after your freight arrives to inspect it for damage or accuracy.
Step 4: Unbox Your Order
SAFETY FIRST: Cut the plastic straps securing your shipment BEFORE removing the plastic wrap. This releases tension in the straps, while still held in place by plastic wrap.
Find your Packing Slip. It will be in a clear plastic pouch adhered to one of the boxes
Find specific product location. We write detailed notes on stickers adhered to every mixed-product box.
Missing something? Contact your sales staff at Unbound Solar immediately by calling toll-free:
1-800-472-1142.
Award-Winning Shipping Solutions
It is important to both Unbound Solar and XPO Logistics that your system arrives safely and that your parts are easy to locate. Our emphasis on customer service does not end on the sales floor.
Unbound Solar ships hundreds of orders per month from our two warehouses in Mt. Shasta, California. In November, XPO Logistics (formerly Con-Way) presented our Distribution Team an award for "Most Effective Shipping Solutions." We'll continue to work hard to ensure safe, successful freight deliveries to each of our customers.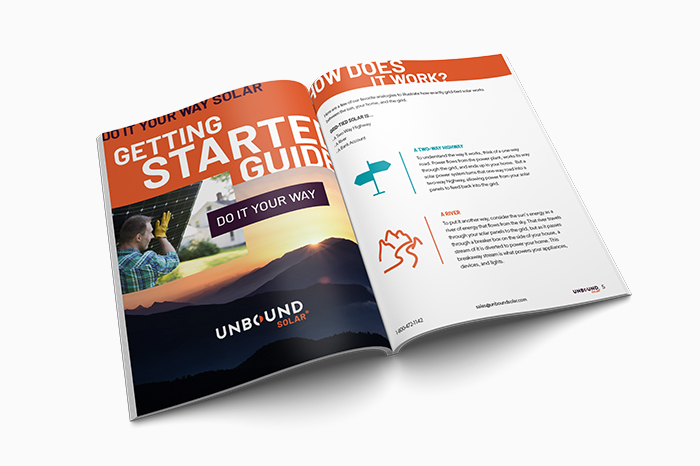 Download Our Getting Started Guide
New to solar? Download our free guide to learn the basics and get started designing a system that's right for you.