More homeowners are choosing to install high-quality solar power systems in a variety of ways, from DIY to full-service installations. Going solar has many cost benefits, including reducing your monthly electricity bills and adding value to your home. By installing solar panels, you'll have a renewable energy source that requires little maintenance, with a payback for initial costs you'll see in just a few years.
Installing solar can be a huge investment. Knowing how to install a solar system properly, what types of installation are out there, and the costs are critical to your decision. If you want to successfully install a solar energy system, you'll need to know the differences between DIY, contractor, and turnkey installations before you begin the process.
Thinking about installing a solar system, but you don't know what option to choose? Use this guide to explore the types of solar installation, the costs, and the pros and cons of each to help you make the right choice.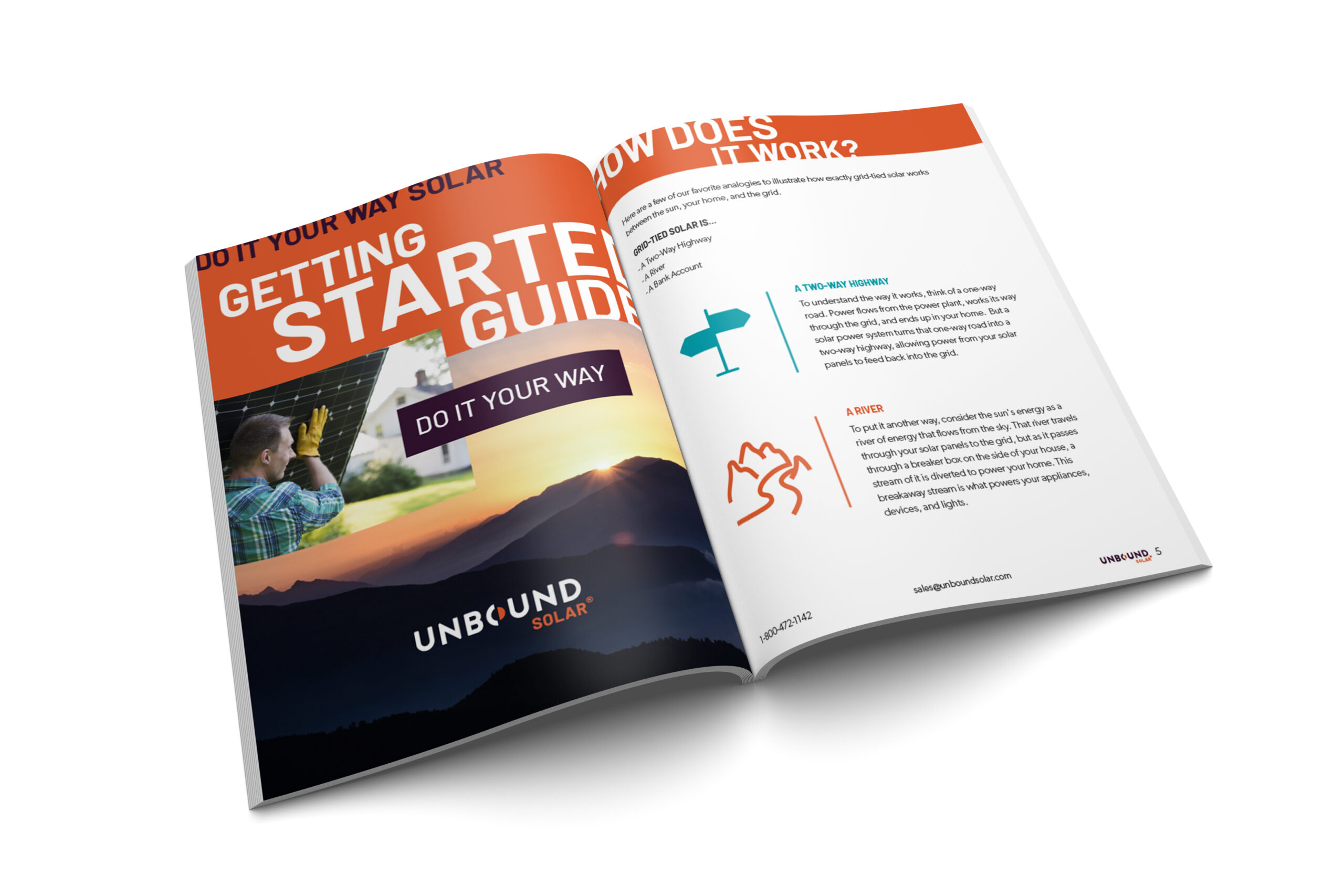 FREE Getting Started Guide
What Is DIY Solar Installation?
A DIY (do-it-yourself) solar installation gives you complete control over the entire project. Although it is the least-expensive option, DIY solar requires careful research and full involvement in the process from beginning to end. You'll be designing the system layout, choosing parts, tracking down permits, and assembling the system with your own hands.
There are plenty of DIY solar resources to guide you through how to install a solar system, and the whole process is more manageable than you may think, with the right guidance. 
What Is Contractor Installation?
You can hire a local contractor to do the solar installation for you. They will charge you more than DIY but less than a turnkey installer to build your system. You can also have the contractor handle some of the more difficult aspects of the job, like permitting, design, or the solar installation. 
You'll handle aspects of the job that you're comfortable with, and give the rest to specialized contractors (electrician, roofer, etc.).
What Is Turnkey Installation?
Turnkey is full-service installation at a premium price point. This option is ideal for people with a large enough budget to hand off the project to someone else. Turnkey installers handle all aspects of the project, including: 
Designing the system 

Sourcing the parts

Obtaining permits

Installing to local building codes

Assisting in filing for incentives
How Do I Choose Between Solar Installations?
For most of us, getting the most value out of our solar system is top priority. If you have a certain budget but don't have time to learn how to install a solar system, answer these questions to help determine which solar installation option is right for you:
Do you have a flexible budget? 
Yes – (DIY)

If you have a healthy budget, you may consider a turnkey provider. They can provide high-quality, professional installation and handle all of the technical details.

No – (Contractor or turnkey)

If your budget is tight, consider going DIY or hiring a local contractor to cut down on expenses. A contractor can give you an excellent middle ground between budget and convenience.
Do you have time available to commit to a DIY project? 
Yes – (DIY)

If you want to be involved in every step of the process, have the time and resources to do it, DIY installation may be a natural fit.

  



(Contractor)

You may consider choosing a contractor if you have limited time but want to be involved in some part of the design process.

No – (Contractor or turnkey)

If you don't want to be involved or have the time, turnkey offers you hands-off installation. It costs more than the alternatives, but the convenience might be worth it.
Do you want to be a part of the installation process?
Yes – (DIY)

If you enjoy all hands-on projects or are eager to

learn how to install a solar system

, DIY may be your best option. You'll get to know the inner workings of the system with full-time involvement in the project. 



(Contractor)

When you use a contractor, you'll get to pick design elements and help build a custom system to call it your own. You'll have as much or little engagement as you like.

No – (Turnkey)

This is a good option if you want to leave the entire installation process to the experts. When you go with full-service installation, you'll also have access to certain solar brands that have exclusive distribution. 
Do you have any experience with home improvements or electrical work? 
Yes – (DIY)

If you have hands-on experience with electrical installation and feel confident in your home improvement skills, DIY may be the right choice for you.

No – (Contractor or turnkey)

If you lack home improvement experience and feel uncomfortable dealing with anything electrical, you should go with a turnkey or a contractor with trained expertise to install your solar properly.
What are the Pros and Cons of Solar Installation Types?
While hiring an installer is more convenient, installing your own solar system can save you a significant amount of money. However, there may be other factors you need to consider before you commit. Compare each approach, and weigh the pros and cons: 
DIY Installation
DIY solar is the least expensive installation option. If you want to learn how to install a solar system and feel comfortable with hands-on projects, here are some pros and cons:
Pros: 
You can maximize savings by avoiding labor costs and provider services. 

You'll be able to select more brands and components than you would with turnkey.   

You'll get hands-on experience to understand the ins-and-outs of your solar system. 
Cons: 
You need to be physically capable and committed to doing the work. 

Some jurisdictions require a certified solar installer, meaning you may not have DIY as an option. 

You won't have a service warranty that you'd get from hiring someone else to do the job.
Local Contractor
Use a local contractor if you want some involvement in the installation process but need someone else to do physical work or manage technical details. This option is cheaper than full-service providers, and you'll still have the expertise when you need it. Pros and cons of using a contractor include: 
Pros: 
You can balance savings and convenience. 

Local installers charge less than full-service providers. 

You can choose the brands and components you like. 

You'll have a professional contractor for the details, like ensuring the system is code compliant.
Cons:
It will cost you more than a DIY to install. 

It requires more research. You'll need to shop for a system and compare contractor bids.

You'll spend a lot of time facilitating communication between all parties involved. 
Turnkey Installation
This may be the smart choice if you can afford to connect with a turnkey provider to sell you the complete package. Here are some pros and cons: 
Pros: 
It's quick and convenient, especially if you have limited time or don't want day-to-day involvements.

They'll design your system and install it for you. Easy.  

You can gain access to solar brands that are available exclusively through a distributor.
Cons:
Full-service installation is the most expensive option.

Although you may have exclusive access to certain brands, you'll likely be limited in choices. Many turnkey installers have a single panel brand that they sell to customers. 
How Much Does Solar Installation Cost?
There are multiple variables to consider when you are seeking out the best solar installation solution. Factor in not only the cost of solar panels but also the added expense for professional installation and other materials.
Learning how to install a solar system may be the cheapest route, but it may not be the most practical. Here are the average costs of DIY, contractor, and turnkey installations:
DIY Installation Costs
If you are buying a 6-kilowatt solar system, the price is approximately $10,000 to cover the costs. Although you won't pay for labor, you'll have to add about $500 for additional expenses, including conduit, A/C wiring, breakers, electrical fittings, and other hardware. Your building permit will also cost you around $200, depending on your local permit rates. This will bring you to $10,700. 
Total for solar installation: Your cost to install is $10,700 before the federal tax credit, which gives you 30% back on your taxes. The total installed cost after the credit is around $7,490.
Independent Contractor Installation Costs
Another option is to buy the equipment, and then hire a local contractor to do the installation. You don't need a solar-certified installer, but you will want to hire a highly experienced contractor, roofer, or electrician who is comfortable doing solar projects.
Contractors are generally $1 per watt to install solar systems. Using a 6kw system, you'll pay an additional $6000 for installation by a local contractor. The final costs will vary, depending on the percentage of the work you contract out.
Total for solar installation: $10,000 + $6,000 = $16,000, and after the 30% tax credit, the final cost of this system would be around $11,200.
Turnkey Installation Costs
Turnkey installation can provide you with the complete solar package, which includes design, equipment, and installation. It's the most hassle-free way to go solar, but you'll be charged a premium for full service.
Turnkey providers may charge 100% to 200% of the equipment cost for installation. For the same $10,000 system, you might be charged anywhere from $10,000 to $20,000 more for installation (this estimate covers a whole spectrum of service charges). 
For example, if you're using a turnkey provider that charges $3.50 per watt to install solar (equipment included) for the 6kw solar system, your solar installation cost would be $21,000.
Total for solar installation: 3.5 X 6000 watts = $21,000. The cost after your federal tax credit would be around $14, 700.  
What Types of Panels Work Best for Installation?
There are three major types of solar panels: polycrystalline, monocrystalline, and thin film. Your choice of solar panels greatly depends on your budget and installation needs specific to your home or property.  
If you have a lot of space for solar panels, you can save money by installing lower efficiency, lower-costing polycrystalline panels. If you have limited space and want to maximize your electric bill savings, you should choose high-efficiency, monocrystalline solar panels instead.
Thin-film panels can be a cost-efficient solution when you need to install solar panels on a large, commercial roof that cannot take the weight of standard solar equipment. 
Want to Try DIY Solar?
Ready to get started on a DIY solar project? Let us know your level of experience and goals for solar installation. When you purchase your solar panels from Unbound Solar, our team of seasoned solar professionals can help guide you through the process.
We offer free solar estimates, system sizing and design, permit help, tech support, a DIY workshop on how to install a solar system, how to find a solar installer, and other useful resources you can use along the way.