Your solar power system is only as good as the racking it's mounted on. You want to get the most durable, effective, flexible racking for your panels, while also keeping in mind several important factors that can make or break your project. So before you start installing, make sure you've considered the following important aspects of racking, and save yourself time, money, and peace of mind: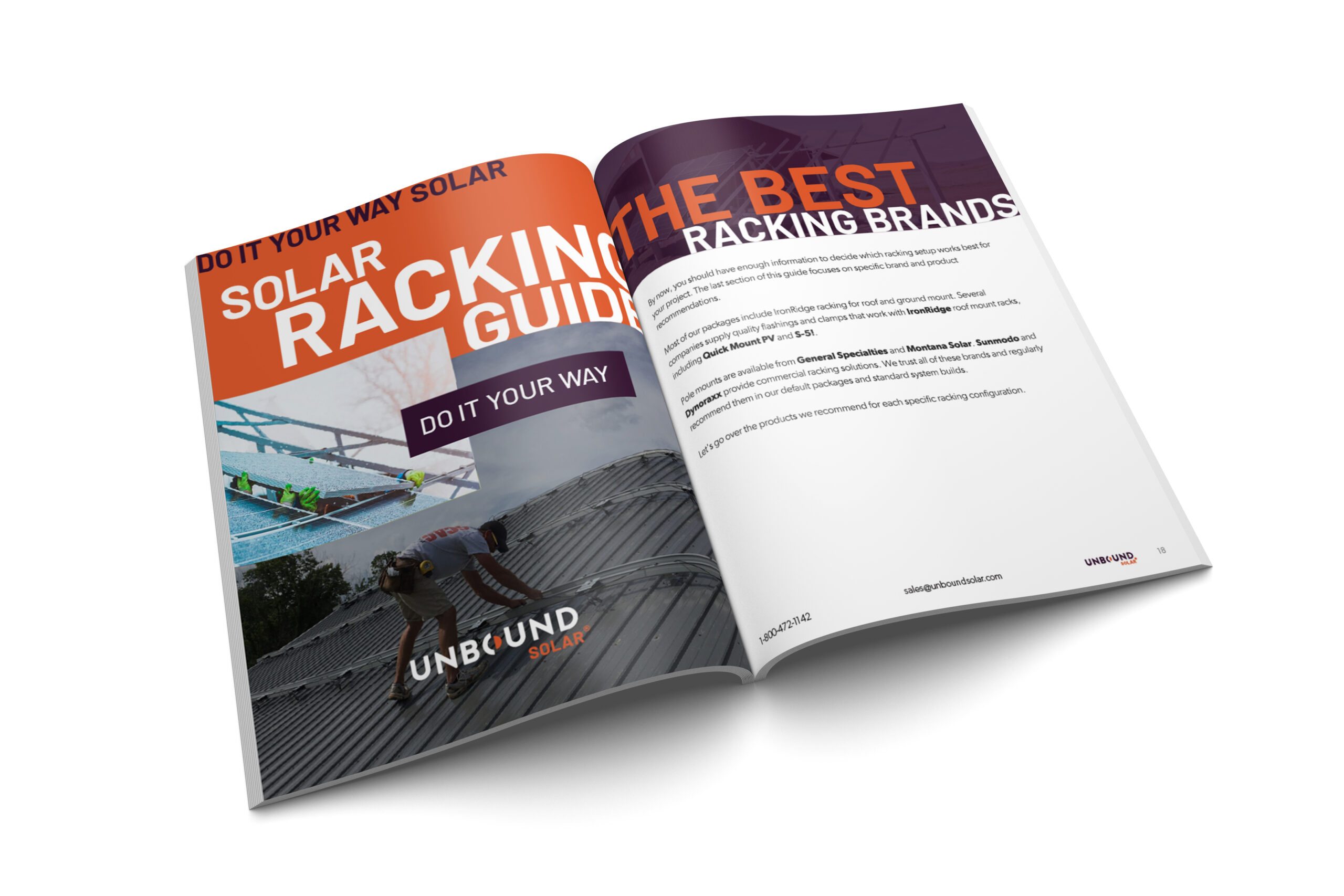 FREE Solar Racking Guide
Price: Determining the size of your solar project, as well as the expected cost of it, is an essential part of the process. Take into account that you're not just buying solar panels, but also racking, power inverters, charge controllers, battery banks and even generators depending on the size of your project and whether you choose grid-tied solar, off-grid solar, or another format.
Use the Unbound Solar cost calculator, check to see what incentives your state offers for switching to solar power, and determine how much you're willing to spend to get the most out of your planned solar power system before you start installation. Keep in mind that the cost of your solar power system is only one aspect of the project. Many states also require permits, surveys, soil samples, and even minor engineering in order to accommodate a solar installation, which can add unforeseen expenses that you will need to budget for and plan around.
Ground Mount of Roof Mount?: Setting up your solar panels on sturdy racking such as an IronRidge XR10, XR100, or XR1000 mount ensures that your solar power system is secure and protected against high winds or inclement weather.
Choosing the right racking usually comes down to a combination of cost and available space. Roof-mount racking is generally more affordable, and uses the available space on your roof, while ground-mounted systems can be quite expensive with extensive preparation work required before installation – including obtaining soil samples, digging, and pouring cement upon which to mount your planned racking.
Efficiency: With any solar power system you want to get the most efficient setup you can and maximize your return on investment. This means more than simply getting high-efficiency panels, however – in fact high-efficiency panels are often costly, and not necessarily better for residential customers ("efficiency" in this regard normally means more power produced with a very small panel size, useful for NASA satellites in orbit or other expensive projects). However, high-efficiency systems are often desirable if working with a limited amount of space, where getting the most out of the room available is essential.
An efficient solar power system here is one that makes the most use out of available hours of sunlight, taking into account the angle at which they're mounted and the amount of roof or ground mount space is available to you. Making sure your panels are mounted so that they don't get covered by shade, wind-blown debris, or other factors is also essential – even a small amount of shade, leaf litter or pine needles can reduce a solar panel's output by 50%, so plan out your installation accordingly and get the most out of your investment!
Orienting your solar panels correctly can help get the most out of your investment as well. True "solar-south" orientation is the most desirable, allowing for the most coverage during the day and therefore the most sunlight collected by your panels. If your roof does not face solar-south, however, east and westward-facing panels can still be productive.
The Right Setup for Your Roof: Roof types can make all the difference when setting up a DIY solar power system. The type of roofing material can make mounting and racking more or less difficult, and determining what works for your particular situation is an important step – one that's best to tackle ahead of time before you start spending!
Metal roofing is especially easy for mounting solar panels, strong and durable like the panels themselves. Usually found on industrial buildings, this roofing type accepts roof mount racks easily, with little extra work needed. Metal roof clamps either drill into the roof to fasten securely, or clamp onto the metal seams with no drilling necessary.
Shingle or Slate roofs need to be drilled into in order to mount your racking system. Due to the fragile nature of this material, precautions need to be taken regarding flashing and sealing your drill-sites against the elements, to ensure your roof doesn't leak after installation. Shingle or slate roofs need to be in good repair before you mount solar panels – we recommend a roof with a projected useful lifespan of 10+ years.
Tile roofing is slightly more difficult, as we know from April's Install of the Month, as you need to fit specialized tile hooks or brackets to your mounting in order to support the racks. Some roofers recommend replacing tile altogether, as tiles often break during the installation process.
Choose the Right Racking: Planning out your solar array to be the most efficient and cost effective setup is important. In order to do this, mounting your panels on the right racking, keeping in mind the importance of location, angle, and the scale of your overall project, is vital.
To this end, we put together a cheat sheet of different racking types and brands, to help guide you in getting an idea of what's right for your project. Our technicians are available via phone to assist you, as well.
Learn more about each racking brand: IronRidge XR and SGA, DynoRaxx, MT Solar, General Specialties, Tamarack Solar.