Our team is back from Solar Power International 2019 in Salt Lake City, UT and we're eager to share our observations about the future of solar!
SPI is one of the largest solar conferences in the world, and it's an excellent place to get a pulse on the latest developments in the solar industry. We spent three days exploring the latest products, emerging technologies, software and services that will shape the solar landscape over the next several years.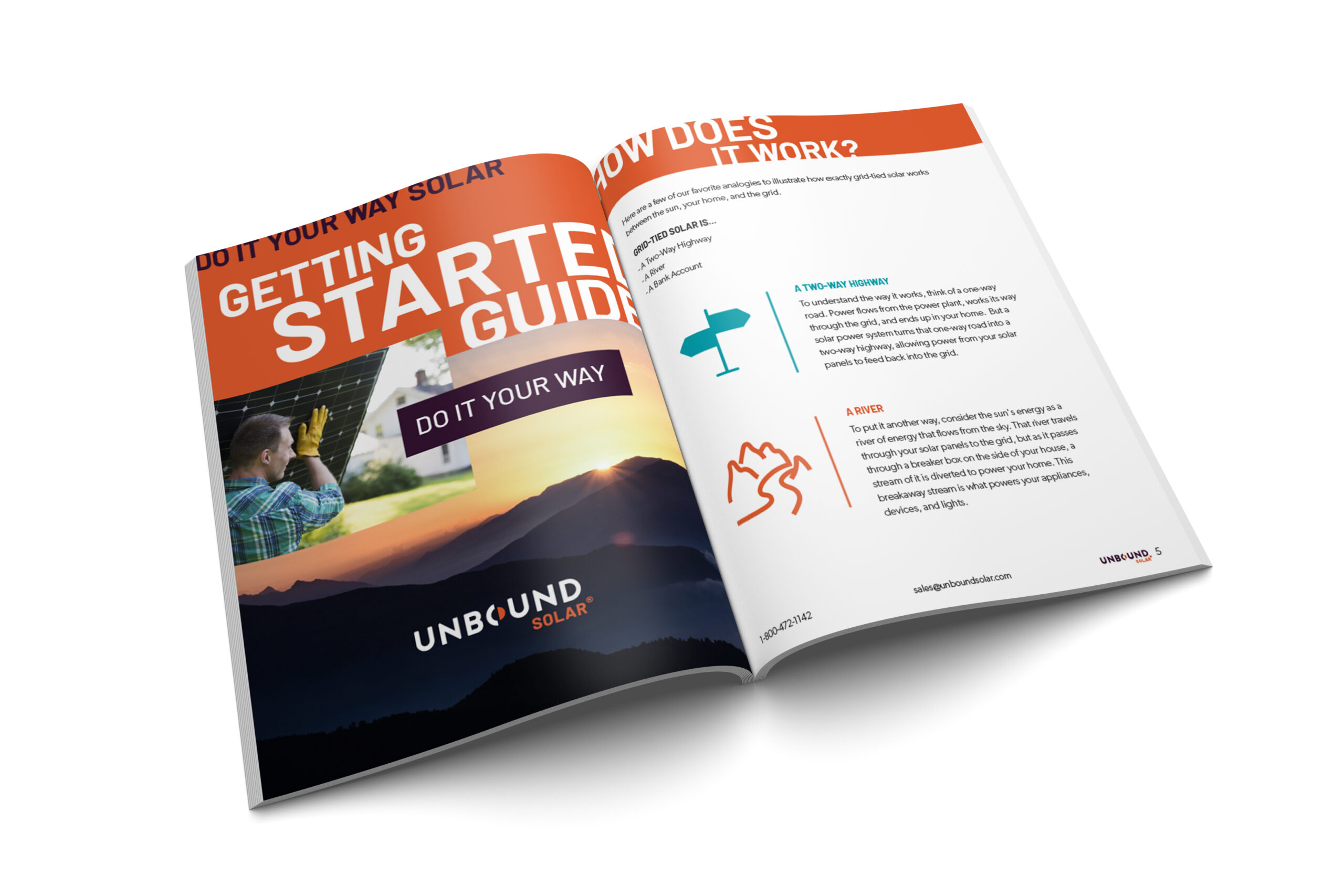 FREE Getting Started Guide
SPI delivered much of the standard fare you'd expect from a trade show, in the form of more efficient products and companies expanding into new markets. Some highlights:
Panels keep getting more powerful
Solar panels are getting more efficient all the time thanks to incremental technology improvements. Panel efficiency has moved well past 20% for the latest, and we saw some impressive things like a 380W panel in a 60-cell form factor. As a Hanwha Q Cells rep put it, "it's a wattage game."
Everyone wants in on the energy storage game
Companies are expanding aggressively into the energy storage market.
Generac (a backup generator manufacturer) announced their first battery storage system.
Sunpower introduced Lithium storage to its product line.
SolarEdge acquired Kokam to bring their own batteries to market in 2020.
These are just a few examples of many we saw on the floor. Energy storage is a rapidly expanding market, and everyone wants a piece of the pie.
Emerging cell technology becoming more viable
New cell technology beyond the traditional mono- and poly-crystalline cells is making its way into the latest panels. Half-cut cells, which boast higher shade tolerance and reduced resistance in the circuitry, were featured prominently on the floor. We also saw tech to make bifacial panels (with cells on both sides) more efficient. We expect these emerging designs to make their way to the mainstream market soon.
Solar Power World has great writeups on new solar panel, battery, racking, and inverter technology on display at SPI 2019 – take a look if you want to learn more about cutting-edge products coming down the pipeline.
Beyond the new products on display, there are two trends from SPI that we are really excited about and want to talk about in a little more depth.
"Pump to Plug" – Inverters With Built-In EV Charger
We noticed a surge of interest in the "pump to plug" movement, urging consumers to ditch gas-guzzling cars in favor of electric vehicles.
Electric vehicles and solar power systems have always been "sister products" in the renewables industry, but until recently, companies haven't really catered to people who own both an EV and a solar array.
But that landscape seems to be changing with the rise of inverters with EV-compatible features, targeting green consumers likely to own both products. SolarEdge led the charge in this category with their HD-Wave inverter with EV charger, which we reviewed about a year ago. At SPI, several manufacturers followed suit, introducing their own EV-ready inverters.
Here's a video showing our first look at SolarEdge's offering:
The latest version can charge at 240V DC with a max 40amp capacity, making the EV charging process more efficient. The impact is cutting EV charging time down to 2 hours (from 6 hours).
The prospect of charging your car with solar is really exciting. By using your own solar-generated electricity to charge your car, you can essentially "drive for free" – no more gas station visits, and no electric bills to plug in your EV, either.
We're looking forward to what the big picture looks like for the solar + EV owner in the near future. Many manufacturers are starting to think of solar as a centerpiece of "smart homes." In addition to powering household appliances, you can use it to charge your EV, store it in a battery bank to use offset peak demand charges and use during outages, or sell it back to the grid as needed. You produce your own energy and you have complete control over how to use it.
We're also looking forward to the next evolution of this concept, which has been coined "vehicle to grid." The idea is that your EV battery can act as a battery backup system for your home. Park the car, plug it in and your car becomes a source of backup power in case of outages. This could potentially save EV owners thousands of dollars by eliminating the need to buy a standalone energy storage system.
However, "vehicle to grid" is in the early stages of development, and there are still regulatory challenges blocking the road forward. We are still several years out from being able to use an EV as a home backup system. But the home storage market is definitely headed in that direction.
Connected Services: Smart Monitoring Software and Support Programs
The other trend we picked up on is the push toward more robust software that plays an active role in system management and maintenance.
Right now, monitoring portals have relatively basic functionality. Existing software can report daily production and consumption, alert the owner about faulty equipment, and generally provide a snapshot of system health and performance.
At SPI, we talked to several companies who are focused on building out their software to work more like a command center for smart homes. The focus is on developing new features to better manage energy usage:
Monitor consumption of individual appliances to spot potential energy hogs
Track when appliances are used, and set them to turn on and off automatically (to run the dishwasher or a load of laundry when you're away at work, for example)
Sync with voice assistants like Alexa and Google Home
Pull local weather forecasts to automatically anticipate production drop due to spells of bad weather, and adjust energy storage to compensate if necessary
Configure non-essential appliances to only turn on during periods of excess PV production (running them for 'free' when solar is available, turning them off if they would use grid power)
Turn radio-controlled electrical sockets on or off, preventing phantom power draw from appliances that are plugged in but not turned on (like a computer or TV plugged in overnight)
Once the solar system can "talk" to the rest of your household appliances, that opens the door to all sorts of possibilities. And the software on the market today just covers the tip of the iceberg.
Over the next few years, we'll see software that connects your solar system to the "Internet of Things," seamlessly controlling your household appliances to use less power and maximize the value of your energy production.
Final Thoughts
Solar energy is going through a "coming of age" phase. The renewable energy industry is working together more collaboratively to capture a larger share of the energy market from fossil fuels. This is the first year SPI invited hydro and wind power companies, and there was a dedicated area for startups serving more granular renewable energy needs – a budding marketplace emerging from the growth of the industry.
You get the sense that solar is close to a tipping point for widespread adoption. Solar has already been mandated for all new homes in California starting in 2020, and other states are introducing legislation to follow their lead. As a result, housing developers are engaging partnerships with solar providers to make solar a standard offering for new homes going forward. Solar is no longer a luxury item, it is a staple of the modern home.
Solar has already been proven as a more cost-effective solution than utility power for grid-tied homes and businesses. But, we are fighting an uphill battle against an entrenched oil & gas industry with lobbying power and billions of dollars in government subsidies.
In many areas, policies reduce the amount that utilities pay for solar, limit system size, or completely eliminate your option to sell power into the grid. For examples of policies that slow the widespread adoption of solar, look no further than the reduction of the solar tax credit and the recent tariffs on imported solar products.
At this point, the battle for increased adoption feels more political than personal. The economics are at the point where solar can take off and become mainstream, but supportive policy would certainly help speed up the process. Programs like the CA solar mandate are moving the needle on that front.
From our time at SPI 2019, we get the sense that the renewables industry has banded together to chip away at these roadblocks so that green technology can truly break into the mainstream. We're really excited to see the industry collaborate to help solar take off over the next few years.
Thanks to SEIA and SEPA for putting on this event. We'll see you next year!