Unbound Solar Cash for Referrals Program
Our best customers are the ones other customers refer to us. We love referrals so much, we'll compensate you for sending us customers who buy! Send us your referrals and receive up to $599 cash every year.
Referral Payments
For every customer you refer to us who buys a complete system $5,000 or over, we'll send you a check!
System cost
You get paid…
$4,999 or less
$0 (Below minimum)
$5,000 and up
$199 (Up to 3 referrals per year)
Annual maximum
(Jan 1 – Dec 31)
$599
Purchase price must be greater than $5000
The customers you refer must buy a system costing at least $5000 before shipping, credit card fees, and taxes. See the following table for payout amounts.
Annual maximum of $599
Each participant in the referral program can earn up to $599 in referral fees per calendar year (January 1 – December 31st).
Tracking referrals
The person you refer to us must mention you by name in their first call to Unbound Solar and state that they were referred by you.
We will track the progress on the order and issue a referral incentive check to you within 1 month of the purchase. (It is possible that the check will arrive sooner.) If your referral does not make a purchase, we will not issue a check.
Subject to changes
Unbound Solar reserves the right to cancel or change the incentives in this referral program at any time. In the event that we need to make changes to this program, we will make our best effort to complete all deals in the works as described here.
Terms & Conditions
Targeted states only
You must reside in one of the following states:
Alaska
Arizona
Arkansas
California
Colorado
Delaware
Georgia
Hawaii
Idaho
Illinois
Indiana
Iowa
Kansas
Kentucky

Louisiana
Maine
Maryland
Massachusetts
Michigan
Minnesota
Missouri
Montana
Nevada
New Hampshire
New Jersey
New Mexico
New York
North Carolina

Ohio
Oklahoma
Oregon
Pennsylvania
South Carolina
Tennessee
Texas
Utah
Vermont
Virginia
Washington
West Virginia
Wisconsin
Wyoming
(The customers you refer can be from anywhere in the United States.)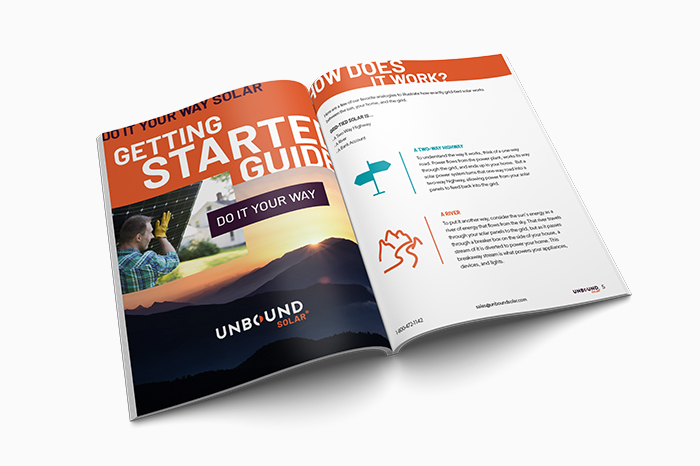 Download Our Getting Started Guide
New to solar? Download our free guide to learn the basics and get started designing a system that's right for you.