Mission Solar Panel Review: Quick Summary
Mission Solar produces high-efficiency solar panels out of San Antonio, TX. While there are more cost-effective imported panels on the market, Mission's panels are extremely competitive with other American-made options at 68-71 cents per watt. Read on for more pros & cons and pricing info.
Looking to go solar and support American goods in the process? Texas-based Mission Solar is our preferred manufacturer of American-made solar panels.
Mission's panels are among the most efficient on the market, and their pricing is competitive given the higher costs associated with American manufacturing.
However, if you don't mind buying imported panels, there are plenty of less expensive options available (with the trade-off that imported panels tend to be less efficient as well).

In this review, we'll cover pricing, specs and pros & cons of Mission Solar panels. We'll also compare their product line against some alternative options to help you find the best fit for your project.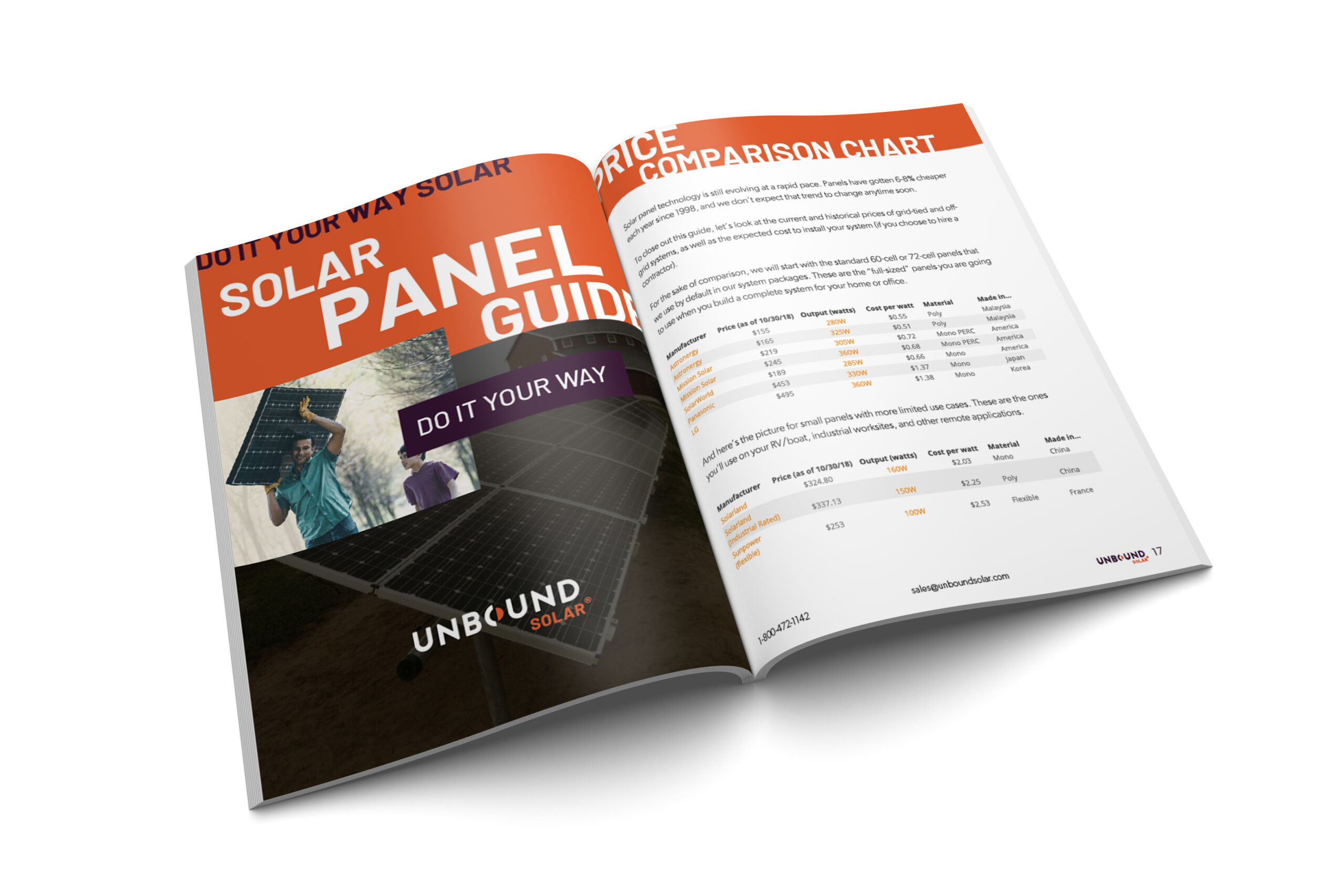 FREE Solar Panels Guide
Mission Solar Panels: Pricing & Specs
Price: $219 (as of 4/24/19)
Wattage: 310W
Cost Per Watt: 71 cents/watt
Efficiency: 18.65%
Warranty: 25 years
Price: $225 (as of 4/24/19)
Wattage: 315W
Cost Per Watt: 71 cents/watt
Efficiency: 18.95%
Warranty: 25 years
Price: $255 (as of 4/24/19)
Wattage: 375W
Cost Per Watt: 68 cents/watt
Efficiency: 18.89%
Warranty: 25 years
Pros of Mission Solar Panels
American-Made
Mission Solar is a "born and bred" American company. They were founded in San Antonio, TX, where they employ hundreds of people at their manufacturing plant.

This is a big sticking point for our customers. Locally produced panels cost 15-25% more than imported panels due to stricter manufacturing regulations and labor laws in America. But many prefer to pay that premium to support domestic job creation efforts and stimulate the local economy.

Mission Solar is our preferred all-American panel manufacturer, producing high-efficiency panels at a competitive price point.
High Efficiency
Mission Solar panels have higher efficiency than most other panels on the market, which translates to more power from a smaller array size.

Residential solar panels come in standardized sizes of 60 or 72 cells, but not all panels are created equal. 60-cell panels typically range from 275W to 325W, while 72-cell panels fall between 330W and 380W.

Mission Solar's 315W 60-cell panels and 375W 72-cell panels land on the high end of these ranges.

More efficient panels mean you need to buy fewer overall panels to reach your target system size. For example, the production from this 24-panel Astronergy system and this 20-panel Mission Solar system are almost identical, but the Mission Solar system takes 4 fewer panels to achieve the same output.

That can be a game changer if you have limited build space for your array. Of the two systems linked above, the Mission Solar array will save about 72 square feet of space on your property.

It's worth noting that there are some super high-efficiency panels from the likes of LG, but the cost-per-watt is prohibitively high. LG's 360W 60-cell panel ($1.33/watt) is almost twice as expensive as Mission's 315W 60-cell panel ($0.71/watt). LG's panels are extremely efficient, but you'll see diminishing returns investing in cutting-edge technology.

PERC Cell Technology
Mission Solar's panels use PERC (Passivated Emitter and Rear Cell) technology, which is more efficient than regular mono- and poly-crystalline cells that have traditionally been used in most panels.

In (relatively) simple terms, PERC cells add a layer on the bottom of the cell to reflect sunlight back through the Silicon layer, giving it a second opportunity to generate electrical current. It essentially exposes the panel to more sunlight, which leads to a bump in efficiency.

In addition to higher efficiency, PERC cells also perform better in low light and high temperatures. This article explains more about the benefits of PERC technology.
Cons of Mission Solar Panels
Higher Cost-Per-Watt
Mission Solar's panels aren't the cheapest option on the market. At 71 cents per watt, Mission's place in the market is a nice mid-range option that is priced competitively against other American-made panels.

But if your primary goal is getting the most out of your budget, imported solar panels tend to be a better value.

Jinko Solar (51 cents/watt) and Astronergy (54 cents/watt) are the most cost-effective panels we offer right now. Both options are about 25% cheaper than Mission Solar 315W panels.

Provided you have enough space to use the lower-wattage panels, Jinko and Astronergy will give you more output per dollar spent on your system.
Mission Solar Panels: The Verdict
Mission Solar is our preferred manufacturer of American-made solar panels. They employ the latest cell technology to offer high-performance panels that strike a balance between efficiency and price.

They'll never be as cost-effective as imported panels, which are cheaper to manufacture due to regulations and labor laws. If you want to make the most of your budget, you will be better served with Jinko Solar or Astronergy panels. But if you prefer to support American-made goods, Mission Solar panels are the most appealing option on the market.