Showing all 9 results
Flooded Lead-Acid Battery Overview
Flooded lead-acid batteries (FLA batteries for short) are a tried and true technology that has been around for more than 160 years. These batteries are built with lead plates submerged in an electrolyte (a mix of distilled water and sulfuric acid).
Flooded batteries require routine maintenance to operate properly. The main responsibility is refilling the battery with distilled water 1-2 times a month to replace water that evaporates during use.
For a complete overview of what it takes to maintain flooded batteries, check out our battery maintenance guide.
Pros of flooded lead-acid batteries:
Lowest upfront cost
Proven technology
Cons of flooded lead-acid batteries:
Require routine maintenance to stay in working condition
Must be ventilated due to off-gassing as a byproduct of operation
Shallow discharge: other battery types can use more of their capacity before recharging
Learn More About Flooded Lead-Acid Batteries
Deep-cycle battery info
Lithium vs. lead-acid batteries
Lead-acid battery types: Flooded vs. Gel vs. AGM
Flooded lead-acid battery maintenance guide
Review: Crown CR430 flooded lead-acid battery
Solar Battery Guide (Free PDF)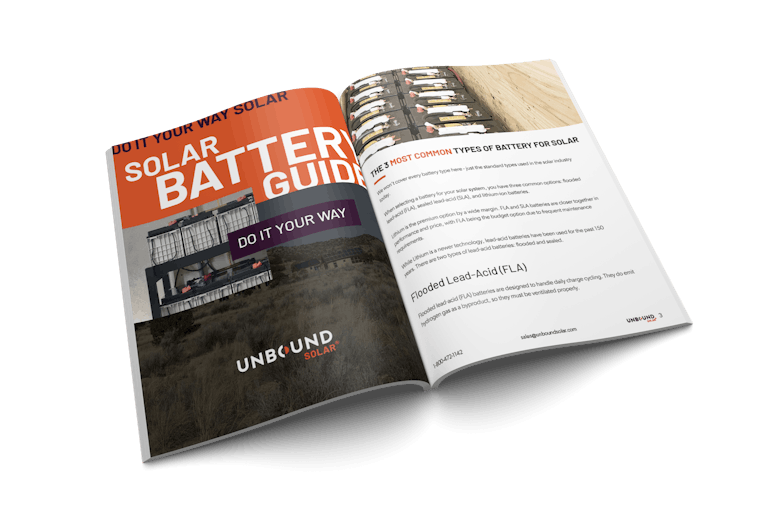 Download Our Solar Battery Guide
A poorly designed system can ruin your batteries. Our Solar Battery Guide will help you size your battery bank properly and keep things running smoothly.
Get free guide »