There is a housing trend emerging throughout the country based on people building or buying tiny homes. This tiny-living trend is a social movement where people are downsizing to focus on smaller spaces and simplified living. Tiny Houses come in all shapes, sizes and forms, and the typical small or tiny house is around 100-400 square feet.
Reasons to go tiny
People are joining the tiny home movement for many reasons, such as environmental concerns, financial concerns and seeking more time and freedom. Some of the reasons people are deciding to go tiny include:
Mobility – Some of these tiny homes are converted Mobile Park Model RVs. This allows owners to circumvent some of the stricter building codes required for permanent dwellings. It also means these homes are small enough to pull behind a truck, or hoist onto a flatbed or large trailer and transport at will.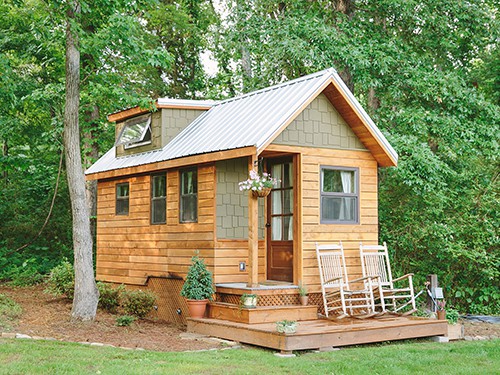 Reduced Carbon Footprint – A smaller house means less lumber and other building materials, smaller and fewer appliances, and less space to heat and cool1. Using renewable energy such as solar power and/or wind power is a key factor in carbon footprint reduction.
Lower Taxes – The more you pay, the more you're taxed. Hence, smaller home equals smaller tax bills.
Little or No Debt – 78% of tiny house people own their home (i.e., have paid off the mortgage or bank loan), compared to 65% of homeowners with traditional houses2. Furthermore, 89% of tiny-house dwellers have less credit card debt than the average American, and 65% have zero credit card debt3.
Self-Sufficiency – Many tiny homes are built off grid. Adding an off-grid solar power system from Unbound Solar allows tiny-house owners to become their own power companies. In addition to energy, many tiny-home owners also have to provide their own plumbing and water systems. This trend is clearly for DIY enthusiasts.
Low Average Price to Build – The average cost to build a tiny house is $23,000 if built by the owner. Compare that to the average cost of a standard-size house at $272,000, which balloons to over $481,000 if you factor interest on a 30-year loan4.
States with highest number of tiny homes:
California
Colorado
Florida
Texas
Wisconsin
Taking a tiny house off-the-grid
Another benefit of tiny home living is the ease and ability of going off grid. There's a direct relationship between tiny houses and off-the-grid living. Having a life with less stuff and more experiences is a big driver of the tiny house movement, and living off the grid allows tiny-house dwellers to take that simplicity even further.
"The beauty of the tiny house movement is that there isn't a one-size-fits-all solution for everyone who wants to go tiny. With the right resources someone can be connected to the grid if they want to. Otherwise, the smaller the house the less energy it needs to run efficiently, so off-grid systems are an easy match." — Laura LaVoie, Tiny Home Owner, North Carolina
Solar systems for tiny homes
The downsizing trend should continue when it comes time to power a tiny house. Tiny-home dwellers planning to run electrical appliances off solar power should consider purchasing energy-efficient appliances and light bulbs.
They should insulate their home to a high standard and look for opportunities to let more light in, which reduces dependency on electric lighting. These conservation steps will help reduce the size of installation needed, and help maximize the solar power generated.
Solar systems can be designed to meet any electrical requirement, no matter how large or how small. However, this does depend on the space and budget available.
The off-grid experts at Unbound Solar can design custom solar systems that will provide the perfect amount of power so tiny-living enthusiasts can enjoy all the amenities they choose. After all, just because tiny-home owners are downsizing doesn't mean they can't enjoy all the modern luxuries they desire to make their tiny house feel like home.
The tiny house movement is gaining interest not just for its novelty, but for the allure of reduced costs, reduced environmental impact, and desire for a simpler lifestyle. Scaling down on square footage – and environmental footprint – provides a practical, effective solution for the adventurous homeowner.
At Unbound Solar, we don't just sell solar, we live it. If you're wondering what size solar system is right for your tiny house project, give one of our solar design experts a call at 1-800-472-1142.
Sources:
1. https://custommade.com/blog/tiny-house-movement/
2. https://www.census.gov
3. https://www.nerdwallet.com
4. https://thetinylife.com/what-is-the-tiny-house-movement/