Here's What You Need to Know.
All of these factors are important to consider when permitting your solar system, and can help streamline your process. Take the time to consider these often-overlooked aspects so you're not caught off guard!
This guide is the perfect prep work to get you started on going solar, and can save you a ton of time so you can get your install going and claim your Federal Tax Credit before the 2021 tax season ends in December.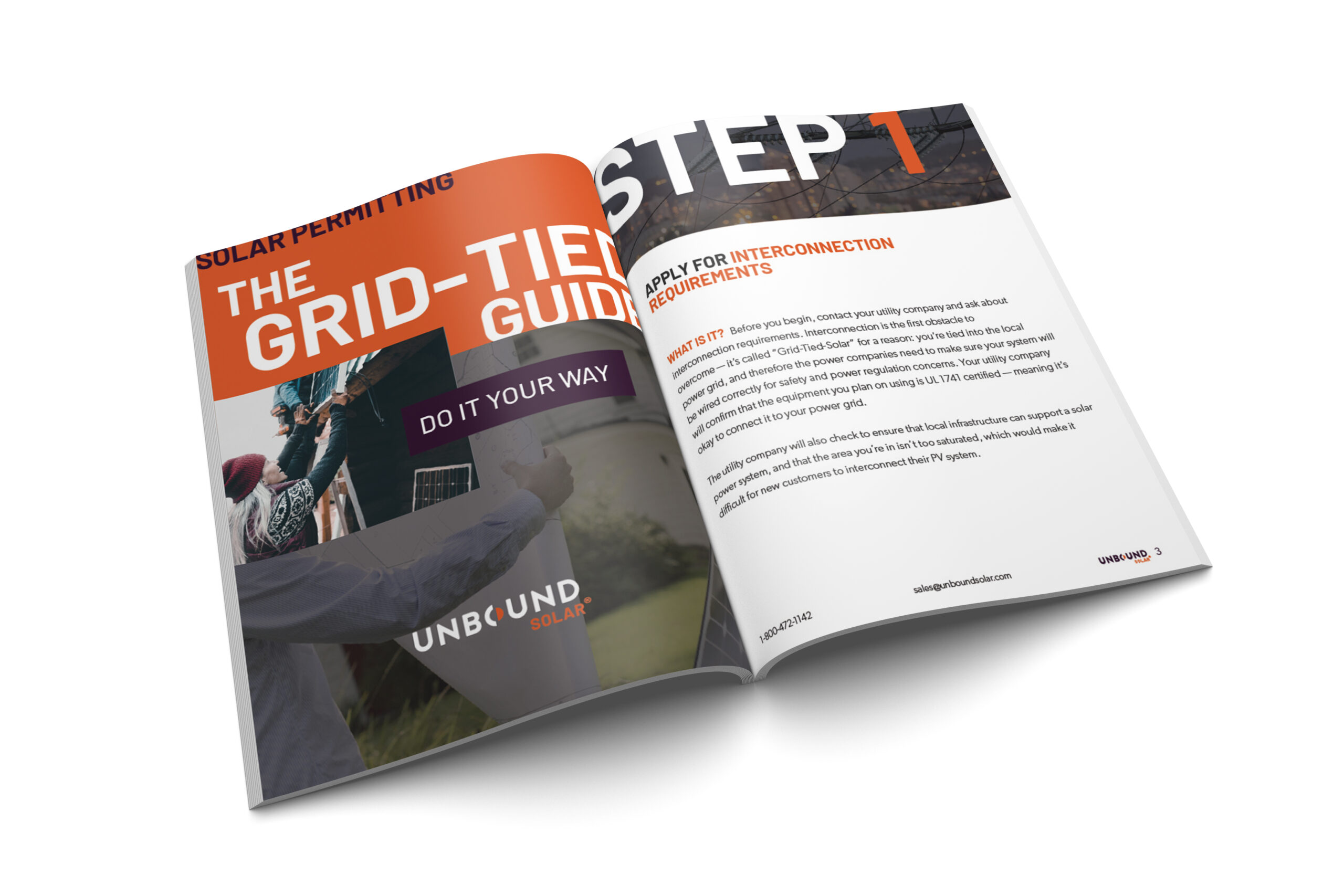 FREE Solar Permit Guide
Geographic Location
Every state, and many different cities within them, has different permitting processes and requirements for homeowners looking to install solar.
California is our go-to example for state requirements: cities in California have some of the strictest zoning, building, and fire codes, so chances are if you can meet their standards, you can meet any state's standards.
We recommend you check your local AHJ (Authority Having Jurisdiction) for full regulations. Some things to consider with your location include:
Urban or Rural Property
Off-grid or grid-tied
Zoning regulations
Fire codes and building codes
Property lines and neighborhood restrictions
Residential or suburban areas often have stricter zoning and installation requirements than rural areas – and if you own several acres of land you can more easily accommodate different mounting types such as ground or Pole-Mounted systems.
In some cases, you have more of a choice in the matter – if you've recently bought property that's off-the-grid, it's a much more affordable option to go solar rather than paying tens of thousands of dollars to run wiring out to your property. Factors like this can help make your installation decision easier, and will affect your permitting and engineering needs down the line.
Wind & Snow Loading
Areas with high precipitation or snowfall require some planning – solar panels can usually only bear a certain load weight – snow and debris can add up quickly during the winter, so it's something to plan for. You don't want to spend thousands of dollars just to lose your entire solar setup when the snow hits this winter.
Moreover, your local AHJ will have building codes that require new structures (such as a solar array) to meet the requirements of your environment, so check with the authority for specific requirements. Many authorities require at least 10-40 PSF (pounds per square foot) load-bearing on panels, and most panels are rated for much higher than this at around 150+ PSF.
Engineering
Engineering your system is essential in some areas, with many AHJs requiring a "wet stamp" which means an engineer needs to review each individual project and sign off on it before approval. Some areas require that ground mounted arrays get soil engineering, where an engineer tests the soil properties to determine how the foundation should be engineered before they can approve your permits.
DIY solar kits tend to include components from a number of different sources and manufacturers, so getting the right approvals and permitting can add time to your install. Some companies aim to alleviate this, for example, IronRidge racking is engineered for all 50 states, and typically meets any local wind or snow requirements – your AHJ and any needed engineer or building code authorities will need to know this info.
Equipment
Newer or more complex equipment can delay or complicate your permitting and install process. Grid-tied systems are usually the most straightforward, but a grid-tied battery backup system will be scrutinized more closely because of the complexity, and often the local inspector will have questions. Expect to be asked about your battery bank's brand, model numbers, battery type, venting method, enclosure, and other details.
Sometimes this also happens with new technology. A few years back, a lot of inspectors were confused about SolarEdge since it is a unique inverter with DC optimizers on each panel. We heard a lot of questions from the building departments about sizing and system calculations. Today, SolarEdge is the #1 residential inverter in the US, and we don't hear as many questions from inspectors about it.
More recently, some newer systems, such as Tesla's Powerwall, require specially-authorized (and often very hard to find) installation professionals who have been certified to work with their equipment.