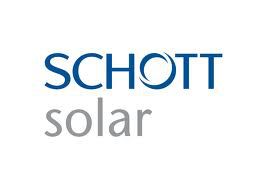 About SCHOTT Solar
Made in: United States
Warranty: First 10 years for defects
Key Points
Over 50 years of solar R&D
High efficiency
Description
Key Points:
WEEB compatible!

Cables allow panels to connect with transformerless inverters and locking connectors
SCHOTT, a high-quality industrial glass products manufacturer, is one of those companies that span many markets including appliances, pharmaceutical industries, optics, and automotive, and of course solar energy and electronics. Not new to solar, Schott began its journey with solar technology as far back as 1958 when they began to develop photovoltaic solar cells for space travel.
With 54 years of solar research and development, large-scale manufacturing and distribution, Schott has become a heavyweight and an asset to the renewable energy field today. So many solar companies have been coming and going. Buyers should take comfort in the fact that they have been in business for longer than their product warranties and can actually stand behind their product. One of Schott's first installations is more than 25 years old and is still performing above 90% of its originally rated power.
In 2009, anticipating a growth in the solar industry, Schott erected a 200,000 sq. ft. plant in New Mexico to replace their plant in Billerica, Massachusetts. With plans to expand to 800,000 sq. ft., it's the first facility in the world to produce both PV modules and concentrated solar power receivers.
While Schott has plants in China, Germany, Spain and the Czech Republic, Unbound Solar sources their solar panels from their U.S. facility. This means they qualify as:
Domestic end products under the Buy American Act (BAA)
U.S. made end products under the Trade Agreement Act (TAA)
Domestic manufactured products under the American Recovery and Reinvestment Act (ARRA)
Schott manufactures high quality monocrystalline solar panel to rigorous standards that ensure industry's highest efficiency ratings and power tolerances. Schott solar panels recently won the TUV power efficiency test when compared to 12 other solar panels. Built to last, their solar panels are guaranteed by their unique 25-year linear power warranty, which guarantees 6% more power than most of their competitors.
See all solar panels.
No products were found matching your selection.